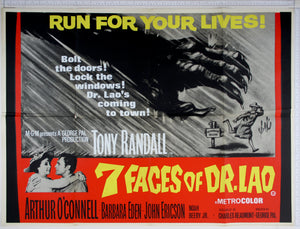 Horror Poster Emporium
7 Faces of Dr Lao (1964) UK Quad Poster
Regular price
$72.00
$0.00
Tax included.
Producer George Pal made his final outing as director with this charming adaptation of the 1935 Charles Finney novel. A magical circus visits and small town in the American southwest, and changes the lives of its inhabitants for the better. William Tuttle's prosthetic makeups won the first of only two honorary Make Up Oscars (the other was John Chambers for Planet of the Apes in 1968). Animator Jim Danforth's work on the giant serpent, the Loch Ness Monster and Medusa's snake-hair was also nominated.
It's not going to get many showings these days, with Tony Randall going yellowface, but in less sensitive times, it was a highly successful family film for MGM.
Condition: FINE - fold separation at joins
Cast: Tony Randall (multiple roles), Arthur O'Connell, John Ericson, Barbara Eden, Royal Dano.
---