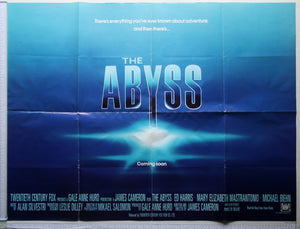 Horror Poster Emporium
Abyss (1989) Advance UK Quad Poster
Regular price
£45.00
Sale price
£55.00
Tax included.
A pre-release quad for James Cameron's undersea epic The Abyss. A film with action scenes that tested its cast to the limit, both mentally and physically.
Condition: VERY GOOD - folds on glossy paper stock
Cast: Ed Harris, Mary Elizabeth Mastrantonio, Michael Biehn, John Bedford Lloyd (from C.H.U.D.), the extraordinarily named Captain Kidd Brewer Jr, a dive buddy of Cameron's from way back (Piranha II: Flying Killers - 1981) who sadly committed suicide the year after The Abyss. Also erstwhile stuntman Dick Warlock, who's appeared as everything from the bartender in When a Stranger Calls (1979) to The Shape in Halloween II (1981), and worked for John Wayne, Mel Brooks, John Carpenter, Tobe Hooper and Sam Raimi.

---