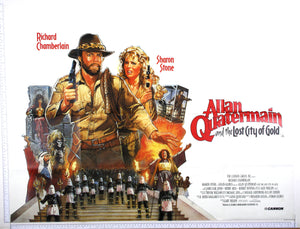 Horror Poster Emporium
Allan Quatermain and the Lost City of Gold (1986) UK Quad Poster
Regular price
$46.00
$0.00
Tax included.
Chasing after the success of Raiders of the Lost Ark, This and King Solomon's Mines (1985) were made back-to-back for Cannon, but although a poster was created, Allan Quartermain never received a cinema release, going straight to video. Directed by Gary Nelson, most famous for Disney's The Black Hole (1979) and being removed from Stallone's Nighthawks (1981).

Artist: Enzo Sciotti
Condition: FINE - small tears RHS, some ink transfer in whites.
Cast: Richard Chamberlain, Sharon Stone, James Earl Jones, Henry Silva, and even Elvira herself, Cassandra Peterson!
---