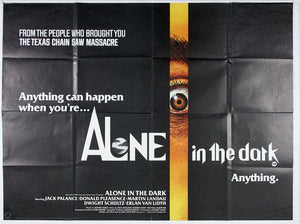 Horror Poster Emporium
Alone in the Dark (1982) UK Quad Poster 2
Regular price
$59.00
$0.00
Tax included.
Director Jack Scholder's underrated classic, Alone in the Dark, with a perfect 'madmen on the loose' cast. Scholder wrote the screenplay from his and producer Robert Shaye's story (Shaye had an illustrious genre producing career, from Polyester, Xtro and A Nightmare on Elm Street onwards) and the film expertly trod the divide between horror and laughs. Matthew Broderick auditioned for the part of the ill-fated babysitter's boyfriend, but was turned down for being 'too talented'. War Games beckoned.
The tagline: 'From the People who brought you The Texas Chainsaw Massacre'  was almost always covered over with a snipe instead, stating 'You Have Been Warned', as there was absolutely no connection with Chainsaw, and they were forced to cover it over on the already printed posters. 

Condition: VERY GOOD - some creasing in the blacks, vertical left and right folds overfolded.

Cast: Jack Palance, Donald Pleasence, Martin Landau, Erlan van Lidth
---