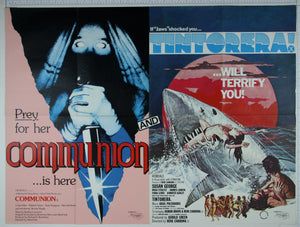 Horror Poster Emporium
Communion / Tintorera (1976 / 1977) UK Quad Poster
Regular price
£55.00
£0.00
Tax included.
Otherwise known as Alice, Sweet Alice, Alfred Sole's sleeper classic gets better with age. His first, a sex film - Deep Sleep (funded by the mob who 'removed' a talkative actor) embroiled him in the underbelly of New Jersey filmmaking. There's still a rough edge to Communion, and his use of unfamiliar faces adds to the timelessness of the atmosphere. Yes, it's Brooke Shields' feature debut, but much more than that. A great, disturbing piece, with a suitably macabre masked and rain-coated killer. Sole eventually gave up the relentless hustle of making low budget movies and became a highly respected Production Designer instead.
On a double bill with Tintorera! In which as much screen time is spent with the three leads aimlessly flirting, as hunting down the killer shark terrorising the Mexican coast. The convention of 'have sex and die' is in full force here, however, the ferocity of the attacks are a surprise, as is the amount of flesh exposed in the full version. Director René Cardona Jr. made around a hundred films, and was responsible for Night of a Thousand Cats (1972) and the infamous Guyana: Cult of the Damned (1979), which he managed to get into the cinemas a mere 10 months after the tragedy actually occurred.
Artist: Unknown, 'demon-eyes' variant on Communion, and the quad uses the same Tintorera artwork as the International 1 sheet, but with added sea spray to obscure the victim's nipples.
Condition: VERY FINE

Cast: Linda Miller, Mildren Clinton, Paula E. Sheppard, Brooke Shields, Alphonso DeNoble / Susan George, Hugo Stiglitz, Andrés Garcia, Fiona Lewis, Jennifer Ashley

---