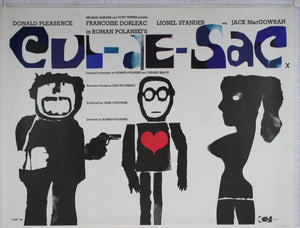 Horror Poster Emporium
Cul-de-Sac (1966) UK Quad Poster
Regular price
$421.00
$0.00
Tax included.
Tony Tenser and Michael Klinger, having lucked into financing Roman Polanski's Repulsion (1965) to world acclaim, produced his follow up, Cul-de-Sac. This surreal, black comedy of manners and errors, is probably Polanski's finest ensemble cast, led by a brilliant Donald Pleasence.
With nods to the works of Beckett and Pinter, with whose plays both Pleasence and Jack McGowran were associated, two gangsters arrive a remote tidal island (Lindesfarne in reality). Here, in a grim castle, George and his promiscuous French wife Teresa live. The gangsters hold them hostage while waiting for their mysterious boss, Katelbach. Indeed, the German title reinforces the Beckett connection –'When Katelbach Comes'. As unwary friends turn up unannounced, events escalate. Written by Polanski and Gérard Brach (who collaborated ten times) its dark and deadpan tone makes it their funniest co-written script.
Aka: Wenn Katelbach kommt...
Artist: Lenica
Condition: VERY FINE / NEAR MINT (Rolled) - Pre-awards

Cast: Donald Pleasence, Françoise Dorléac, Lionel Stander, Jack McGowran, Geoffrey Sumner, Renee Houston, William Franklin, Jacqueline Bisset, Marie Kean
---