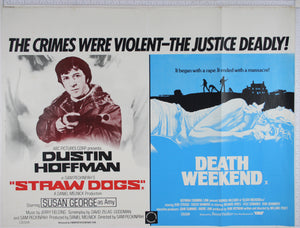 Horror Poster Emporium
Death Weekend / Straw Dogs (1976 / 1971) UK Quad Poster
Regular price
£75.00
£0.00
Tax included.
Sam Peckinpah's infamous Straw Dogs, still getting a first billed airing five years later on the exploitation circuit. The trials and tribulations of getting it made are well-documented, with cast and crew variously sick, drunk and broken-limbed, as well as the problems getting it shown - cuts, banning, cuts and finally uncut, some 30 years later. This version would have been the fullest, prior to changes due to the Video Recordings Act in 1988.
Only William Fruet's second film after his dour Wedding in White, and followed by the Canuxploitation classics Search and Destroy (1979), 1980's Cries in the Night (Funeral Home), Trapped (1982) and Spasms (1983). He was a forerunner in every horror exploitation trope - psycho / vigilante / home invasion / rural / slasher / body horror.

Artist:  / Vic Fair - This is the censored tagline. (see standalone quad for the explanation).  Although red was used on the poster, the blood on this version of Vacarro's Stanley knife is absent.

Aka: / The House By the Lake
Condition: VERY GOOD / FINE - creases, edge dinks

Cast: Dustin Hoffman, Susan George, David Warner (uncredited), Peter Vaughan, T.P. McKenna, Ken Hutchinson / Brenda Vaccaro, Don Stroud, Chuck Shamata, Michael Kirby
---