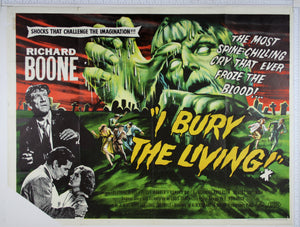 Horror Poster Emporium
I Bury the Living (1958) UK Quad Poster
Regular price
£150.00
£0.00
Tax included.
Generally known as a producer, Albert Band directs here (father of producer / director Charles and composer Richard). A cemetery official accidently discovers that if he replaces white pins (marking bought but not yet needed plots) with 'occupied' black ones – that owner mysteriously dies. So what would happen if he replaced black ones with white ones?
Cue great (and prescient) psychedelic horror, and rational explanation notwithstanding, for much of its running time this is a classic. Richard Boone stars, with top B cast support from Theodore Bikel, Peggie Maurer and Russ Bender. Great score by Gerald Fried, The Baby (1973), Survive! (1976) too.
Artist: Unknown - but the lurid colours of the quad outdo the rather insipid US versions.
Condition: VERY GOOD - but lower left corner cut off.
---