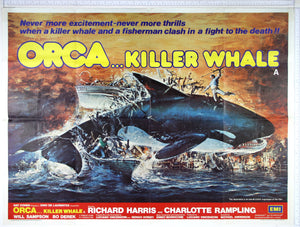 Horror Poster Emporium
Orca... Killer Whale (1977) UK Quad Poster
Regular price
£75.00
£0.00
Tax included.
Impressive artwork that the film couldn't possibly live up to. To my knowledge, it's the only poster than had to carry a disclaimer to appease disgruntled patrons - the gramatically tortuous 'This illustration is an overall artist's impression of the film'.

It's the film in which an angry whale bites off Bo Derek's leg - a must-see for that reason alone. Captain Harris mistakenly harpoons a pregnant female Orca, and finds he has his very own Moby Dick on his tail, out for revenge. Where a more visually dynamic approach would at least have pushed it nearer to Jaws (1975) territory, Dino de Laurentiis chose Michael Anderson to direct. This stolid filmmaker - The Dam Busters (1955), Operation Crossbow (1965) had just come off a big hit with Logan's Run (1976), but that film's success was more a case of script, cast and art direction than Anderson's specific input. 

The effects for Orca however, were generally very good. Having learnt the lessons of Jaws, watertight Animatronic whales were created to perform specific stunts. Indeed, they were so realistic, animal rights campaigners tried to block the trucks delivering them to the set.
Artist: John Berkey

Condition: VERY FINE - small edge dinks

Cast: Richard Harris, Charlotte Rampling (who happily bounced from art cinema to this and back again), Will Sampson - Ten Bears from The Outlaw Josey Wales (1976), Bo Derek, Keenan Wynn, Robert Carradine

---