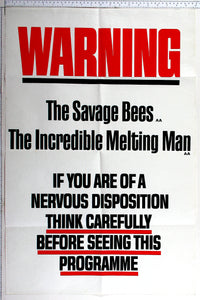 Horror Poster Emporium
Savage Bees / Incredible Melting Man (1976 / 1977) UK Double Crown Poster
Regular price
£65.00
£0.00
Tax included.
Text Double Crown poster, used in the cinema lobby as an additional inducement /  challenge. The Savage Bees (one of many 70's killer bee movies) was made for TV, directed by Bruce Geller. He was better known as writer and creator of the Mission Impossible series (1966 - 1973). The Savage Bees and the superior Harry In Your Pocket (1973) were his only features.
The Incredible Melting Man is William Sachs' breakthrough film after the obscure South of Hell Mountain (1971) and There is No 13 (1974) starring the indefatigable Mark Damon. Originally title The Ghoul from Space, it's best remembered for Rick Baker's gloopy effects (Rob Bottin and Greg Cannom were assisting) as astronaut Steve West returns to earth and, well, starts melting. Appropriately, the story is a meld of First Man into Space (1959) and The Quatermass Xperiment (1955) as well as bearing a resemblance to one of pre-fame Stephen King's short stories I Am the Doorway, published in 1971.

Condition: VERY FINE / NEAR MINT

Cast: Ben Johnson, Michael Parks, Horst Bucholz, Gretchen Corbett - Let's Scare Jessica to Death (1971) / Alex Rebar, Myron Healey, Cheryl 'Rainbeaux' Smith - Caged Heat (1974), Blackboard Massacre (1976), Laserblast (1978) and Jonathan Demme in a bit part.

---