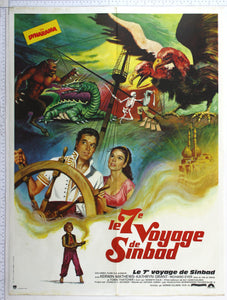 Horror Poster Emporium
7th Voyage of Sinbad (1958 R79) French Moyenne Poster
Regular price
$162.00
$0.00
Tax included.
A re-release for one of Ray Harryhausen's most beloved films - the first to feature a macabre skeleton fight that would later be topped with the multi-skeleton battle in Jason and the Argonauts (1963). In the budget world of one-man special effects, Harryhausen had to cannibalise the armature for the Ymir from 20 Million Miles to Earth (1957) to make the Cyclops for Sinbad and decades later, do the same to the Cobra-Woman (Harryhausen's favourite creature) in order to make the Gorgon for Clash of the Titans (1981).
Director Nathan Juran, from The Deadly Mantis (1957) to 20 Million Miles to Earth (1957), then Sinbad, Jack the Giant Killer (1962) and his best work First Men in the Moon (1964) was a safe pair of hands for effects-driven projects. Sinbad catapulted Kerwin Mathews into a series of clean-cut heroic roles, the next Harryhausen film The 3 Worlds of Gulliver (1960), The Pirates of Blood River (1962) for Hammer, the brilliant Jack the Giant Killer (1962) and back to Hammer for Maniac (1963). He and Juran practically ended their careers together on The Boy Who Cried Werewolf (1973).
Artist: Unknown, based on the 1958 US 1 Sheet design. However, it's done with considerably more flair and accuracy towards the Harryhausen models (and better likenesses too), and is a finer piece of art than the American poster.
Condition: FINE / VERY FINE - slight creasing and discolouration on top and bottom edges.
Cast, Mathews, Kathryn Grant (whose career pretty much evaporated after this), Torin Thatcher, Richard Eyer, Alec Mango (British character actor from the late 30's, with The Strange World of Planet X (1958), 3 Worlds of Gulliver, Frankenstein Created Woman (1967) and Ken Russell's Gothic (1986) in his credits).
---