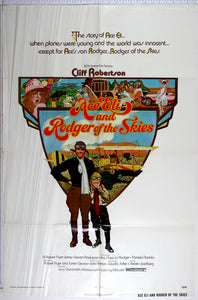 Horror Poster Emporium
Ace Eli and Roger of the Skies (1973) US 1 Sheet Poster
Regular price
£10.00
£0.00
Tax included.
Steven Spielberg's first feature film credit (given that Duel (1971) and Something Evil (1972) were originally TV Movies) as the creator of the story of this charmless piece about an irresponsible barnstorming dad and his wayward son, hopping from hick town to hick town. Spielberg had planned to make it his feature debut, and when it was given to John Erman (a journeyman director who retreated to uninspired TV projects) he refused to work at 20th Century Fox again, until 2002 and Minority Report.

The dour, unsympathetic characters, including Pamela Franklin as a haughty flapper, were bad enough, but the studio backed off from the original ending (Eli commits suicide) and had father and son return home, where their neighbours still hadn't discovered their true awfulness. It wasn't an improvement.
Aka: Los ases del cielo (which seems more succinct!)
Condition: POOR / GOOD - Extensive diagonal creasing left hand side, some edge dinks. Requires restoration.

Cast: Cliff Robertson, Eric Shea - the annoying kid in The Poseidon Adventure (1972), Pamela Franklin - The Innocents (1961), The Legend of Hell House (1973), Bernadette Peters - Vigilante Force (1976, The Martian Chronicles TV series (1980), Rosemary Murphy, Alice Ghostley, Royal Dano, Don Keefer
---