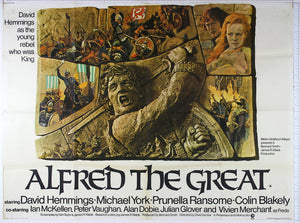 Horror Poster Emporium
Alfred the Great (1969) UK Quad Poster
Regular price
£45.00
£0.00
Tax included.
A slight awareness of Dark Ages history is useful in this not-always-accurate retelling of King Alfred and his defeat of the Danish hoardes, although the props and costumes are convincing. When MGM first announced the project, they were going to call it A King is Born.
This was TV writer Ken Taylor's sole feature film, and his lumpen dialogue is a struggle for most of the cast, (prominently featured Vivien Merchant refused to say her lines, and played her role completely mute). Getting Clive Donner to direct because he'd never done a period film, and thus wouldn't fall into historical clichés was a wise one, on the surface. The fact that he'd never really made a good film that relied on his own strengths, rather than those of the screenplay, never crossed the producers' minds. The film was a box office flop.

Condition: GOOD / VERY GOOD - some grubbiness on white folds and in whites, pinholes clearer.

Cast: David Hemmings, Michael York, Prunella Ransome, Colin Blakely, Ian McKellen, Peter Vaughan, Julian Glover, Christopher Timothy,Sinéad Cusack and even Robin Asquith as a shepherd boy.
---