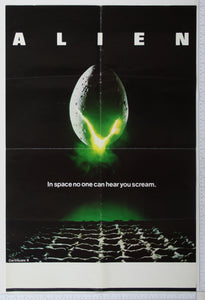 Horror Poster Emporium
Alien (1979) UK Double Crown Poster
Regular price
£0.00
£0.00
Tax included.
What more can be said about Alien, other than although design student Bolaji Badejo (6 ft 10 ins) played the alien in most shots, during action moments two stuntmen stood in; Roy Scammell and more importantly, Eddie Powell. So Christopher Lee's stunt double, and erstwhile Hammer stunt regular, the Mummy from The Mummy's Shroud (1967) who convinced us to 'Drink a Pint a Milk a Day' Mr Eddie Powell links Hammer Studios with Alien. The effects shots were also done at Bray, although long after Hammer had vacated the premises.
Condition: FINE / VERY FINE – folds on glossy paper stock
Cast: Tom Skerritt, Sigourney Weaver, John Hurt, Harry Dean Stanton, Veronica Cartwright, Yaphet Kotto, Ian Holm and Helen Horton as the voice of 'Mother'.
---