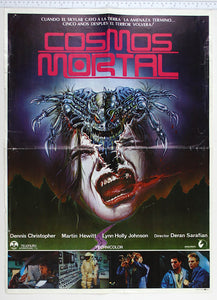 Horror Poster Emporium
Alien Predator (1986) Spanish Small Poster
Regular price
£25.00
£0.00
Tax included.
Three American friend find a sleepy Spanish town harbours a terrible secret, as Skylab, crash-landing in the area years earlier, has unleashed an alien organism that turns people in carnivorous monsters. An appealing cast enliven this early take on innocents abroad discovering something deadly about the locals.
Producer Carlos Aured retired from filmmaking after the production went over budget, and he was left financially liable. Director Deran Sarafian (whose feature debut this was) was the son of Richard C. Sarafian (Vanishing Point) and nephew of Robert Altman, but their level of talent didn't exactly rub off.
Artist: Unknown, but uniquely graphic artwork, very different from the US posters
Aka: Cosmos Mortal, Mutant II, The Falling
Condition: GOOD - glossy paper, so edge / fold creases show up. Edge dinks.
Cast: Dennis Christopher, Lynn-Holly Johnson, Martin Hewitt, Luis Prendes
---