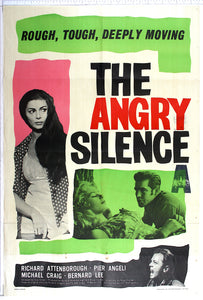 Horror Poster Emporium
Angry Silence (1960) UK International 1 Sheet Poster #New
Regular price
£55.00
£0.00
Tax included.
Editor Anthony Harvey went from the comedy classic I'm All Right Jack (1959) to this, but essentially made the same film twice. However, here, the man standing against the union is a tragic figure by the end, both figuratively and literally blinded by his stubborn refusal to conform, against his ethics. In The Angry Silence, Harvey also made the finest (planned) single cut in British cinema.
Richard Attenborough was always a fighter for individualism, and as star and producer (with Bryan Forbes and Jack Rix - whose last film was Larraz's Symptoms - 1974) he was a creative force to be reckoned with throughout the 50s and 60s. Although director Guy Green made the efficient Hammer thriller The Snorkel (1958), his rather lacklustre career suggests that his Angry Silence producing and creative team; photographed by Arthur Ibbetson - The League of Gentlemen (1960), Where Eagles Dare (1968), Frankenstein: The True Story (1973), with music by Malcolm Arnold - The Bridge on the River Kwai (1957), Suddenly, Last Summer (1959) and Whistle Down the Wind (1961), had rather more to do with its artistry than did the director.
Artist: (probably) S. John Woods
Condition: GOOD - multiple pinholes left and right, and along additional lower fold. Edge dinks and small stains above cast list, stencilled 'A' certificate added, with ink transfer above.
Cast: Richard Attenborough, Pier Angeli, Michael Craig, Bernard Lee, Alfred Burke, Norman Bird, Gerald Sim, Oliver Reed, Geoffrey Keen, Laurence Naismith, Marianne Stone (of course) with Alan Whicker as himself, and a blink and you'll miss it cameo from Bryan Forbes as a reporter.
---