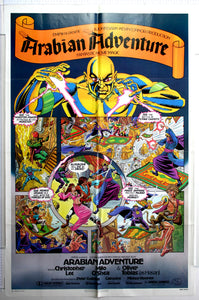 Horror Poster Emporium
Arabian Adventure (1979) US 1 Sheet Poster
Regular price
£35.00
£0.00
Tax included.
The last of Kevin Connor and John Dark's series of fantasy films which began with The Land That Time Forgot. For such a modest film, it produced a large number of wonderful posters worldwide, and this comic-book style is a colourful addition.

Artist: Alex Saviuk - Saviuk had joined DC comics two years previously, creating artwork for Green Lantern, The Flash and Superman, before moving to Marvel in the mid 80s and becoming a key Spider-Man artist. Here, his dynamic compositions give a great sense of movement and depth.

Condition: FINE / VERY FINE

Cast: Christopher Lee, Oliver Tobias, Milo O'Shea, Emma Samms (her debut), Peter Cushing, Mickey Rooney, Capucine, Ark Malik and Hammer heavy Milton Reid as the Djinn (voice dubbed by the Man in Black himself, Valentine Dyall).
Search Arabian for other items

---