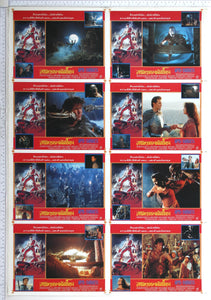 Horror Poster Emporium
Army of Darkness (1992) Thai Stills Set Poster
Regular price
£35.00
£0.00
Tax included.
What should have been entitled The Medieval Dead, Sam Raimi's third installment picked up from the hilarious ending to
Evil Dead II
, with Ash thrust back in time to the 1300s. All the usual suspects are there, influences from
Jason and the Argonauts
(1963), quotes from
The Day the Earth Stood Still
(1951), the premise of
A Connecticut Yankee in King Arthur's Court
(1948), shots cribbed from Victor Fleming's
Joan of Arc
(1948) storyboards and The Three Stooges of course.
Playing for broader laughs than before (ie dialling down the gore), Ash fights the Deadite Army and a Bad-Ash in his quest to get back home. The film sports two alternate endings, their original downbeat 'overslept' one, and a reprise back in S-Mart as he offs a Deadite and gets the girl (Bridget Fonda, a self-confessed Evil Dead fan). There are also four different release versions, hence the confusion over titles and running times.
In tribute to his idol Ray Harryhausen, Raimi achieved some of the optical effects via Intravision, a front-projected image combining with the live action, that blends more seamlessly than the traditional rear-projection technique. Peter Hyam's Outland (1981) used the same process.
Aka: L'armée des ténèbres - Evil Dead III, The Evil Dead 3: Army of Darkness, Bruce Campbell vs. Army of Darkness
Artist: Unknown - this is how stills sets were tradionally distributed in Thailand, printed up as a single poster, then cut down by the cinema itself. Artwork, one main image and two smaller ones per card gives a great variety of scenes. Sheet is 31" x 21.5" and each still would cut down to 10" x 8".
Condition: VERY FINE - slight creasing. to left and right borders

Cast: Bruce Campbell, Enbeth Davidtz, Marcus Gilbert,Ian Abercrombie, Ted Raimi, Patricia Tallman
---