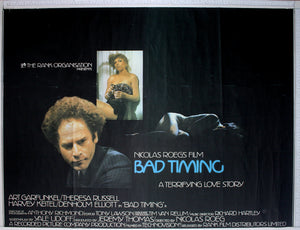 Horror Poster Emporium
Bad Timing (1980) UK Quad Poster #New
Regular price
£75.00
£0.00
Tax included.
Nicholas Roeg's psychosexual drama that so appalled its production company Rank, that they removed any mention of their involvement on all UK prints. Art Garfunkel plays a louche American falling for a dangerously free-spirited Theresa Russell (a career best performance) in a tortured romance that ends in rape and attempted suicide.
Roeg's fragmented and elliptical storytelling is augmented by the extraordinary cutting of editor Tony Lawson, who in five short years moved from Kubrick's Barry Lyndon (1975), to Peckinpah's Cross of Iron (1977) to Bad Timing.
Condition: VERY GOOD / FINE (Rolled) Creasing in blacks

Cast: Art Garfunkel, Theresa Russell (who dubbed Daria Nicolodi's voice in Tenebrae - 1982), Harvey Keitel, Denholm Elliot, Daniel Massey, Dana Gillespie (The Lost Continent - 1968, The People That Time Forgot - 1977), William Hootkins.
---