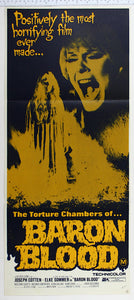 Horror Poster Emporium
Baron Blood (1972) Australian Daybill
Regular price
£45.00
£0.00
Tax included.
A gloomy castle, incantations on parchment that (in Night of the Demon fashion) refuse to be recanted , torture chambers, spike-lined coffins and vengeful victims emerging from their graves – yes Mario Bava's back in the horror world after a six-year hiatus since Kill, Baby… Kill! (1966). Baron Blood is not dissimilar to Antonio Margheriti's The Virgin of Nuremberg (1963), but Bava reins in the psychedelic flourishes that he'll employ in Lisa and the Devil, and tells a great, gothic story.
The cinematography is outstanding (despite Antonio Rinaldi's credit, Bava was the main cameraman) and the chiaroscuro and inventive camera angles add their own doom-laden atmosphere. Not vintage Bava perhaps, but he still does it better than anyone else. Unusually (since he didn't like leaving Italy) he agreed to film in Austria, and the change in locale gives his film a unique character.

Aka: Gli orrori del castello di Norimberga
Condition: VERY FINE (Thick paper stock) Bava's films were given a very sporadic Australian releases, and only four or five were given posters.

Cast: Joseph Cotten, Elke Sommer, Massimo Girotti, Luciano Pigozzi, Antonio Cantafora
---