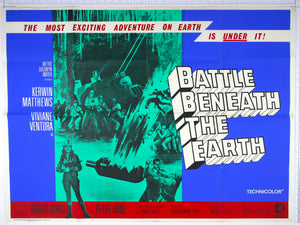 Horror Poster Emporium
Battle Beneath the Earth (1967) UK Quad Poster
Regular price
£65.00
£0.00
Tax included.
It's yellowface all round, as an insane Chinese general intends to destroy America. How to get his nuclear arsenal over there? Why, transport them along a series of tunnels built with massive tunneling machines, right under the Pacific Ocean. Of course. 8 miles a day means about three years until doomsday.
British made but hoping to be mistaken for American, it really runs like an episode of The Man From Uncle. Montgomery Tully was a key B director - nearly every British actor of note from the 40s onwards, got a career push from one of his films. This and The Terrornauts the same year, were his final two films.

Condition: VERY FINE - small edge dink
Cast: (Americans) Kerwin Mathews, Robert Ayres, Peter Arne, Ed Bishop, (Chinese) Martin Benson, Viviane Ventura, Peter Elliot - thank goodness for Paula Li Shui, but still no place for Burt Kwouk! 
Most important member of the cast is the great Bessie Love as the Matron. She worked with D. W. Griffith on Intolerance (1916)!

---