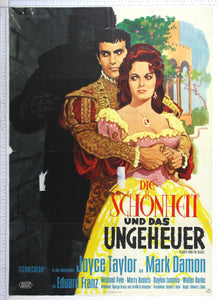 Horror Poster Emporium
Beauty and the Beast (1962) German A1 Poster
Regular price
$46.00
$0.00
Tax included.
Edward L. Cahn mostly made what could be described as two-fisted tales in the western and crime genres. But he also shot a great Women in Prison movie Betrayed Women (1955) as well everything from The She-Creature (1956) to Zombies of Mora Tau (1957), It! The Terror from Beyond Space (1958) and The Four Skulls of Jonathan Drake (1959). He was a highly prolific director, almost 50 films between 1950 and 1962 alone – Beauty and the Beast would be his last.
A rather threadbare version, with insipid leads – Mark Damon (one of the many former beefcake actors who ended up in Italy throughout the 60s and 70s) and Joyce Taylor whose career dried up over the next few years. More of a werewolf-beast than ever (he even changes during the full moon), the makeup was appropriately created by the now freelance Jack P. Pierce, who simply reached for his classic Wolf Man kit.
Artist: Unknown, but certainly the most subtle and fairytale-like rendition for this version.
Condition: FAIR / GOOD - pinholes, jagged tears top left, paper loss left centre, two sites of snipe remains lower centre to left of text

---