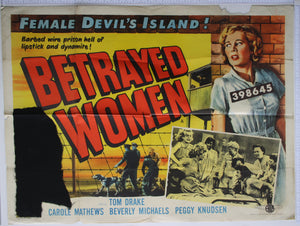 Horror Poster Emporium
Betrayed Women (1955) UK Quad Poster
Regular price
£15.00
£0.00
Tax included.
Eleanor Parker in Caged (1950) set the template for Women In Prison films – innocent(ish) new inmate becomes hardened, cruel warder / warden, gang beatings, corrupt parole boards, suicide, catfights, coy hints at lesbianism and the rest.
Betrayed Women is Edward L. Cahn's slightly more genteel version. Beverley Michaels (her short-lived career encompassed Wicked Women 1953, Crashout 1955 and Women Without Men 1956) spits out her hard-boiled dialogue with aplomb, 'nobody's tellin' nothin', no one pushes me around!'
Condition: FAIR / GOOD - Rating is to account for the overall condition other than the Irish Censor's blackout on the figure to the left. Some edge tears and general creasing. It's been held up to the light, but the censor was too efficient... It should have been a kneeling woman after a savage whipping.

Cast: Carole Mathews, Peggy Knudsen, Tom Drake, Sara Haden, Esther Dale
---