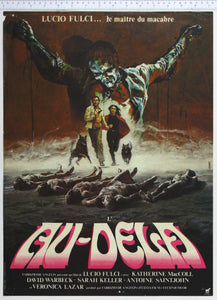 Horror Poster Emporium
Beyond (1981) French Petite Poster
Regular price
£65.00
£0.00
Tax included.
The second of Lucio Fulci's 'Gates of Hell' trilogy, after City of the Living Dead (1980) and followed by The House by the Cemetery (1981). Other than a Louisiana hotel being the site of one of the seven gates of hell, the plot proceeds as some kind of fevered nightmare, circular and unending horror. It's the most bizarrely poetic of the three, and the central motif of seeing, unseeing and blinding binds the set pieces together in a more successful way than the more disjointed structures of City or Cemetery.
Roger Ebert criticising it for having 'an incoherent plot' is really a valediction. And it didn't prevent The Beyond from being a key influence in the depiction of horror in everything from The Evil Dead (1983), The Hellraiser series and Soavi's work since The Church (1990).
Aka: L'adilà / 7 Doors of Death (recut and rescored) / Geisterstadt der Zombies
Artist: Konkoly - the most dreamlike poster, depicting both the crucified artist and the Beyond itself.

Condition: FINE - slight edge dinks

Cast: Catriona MacColl, David Warbeck, Cinzia Monreale, Antoine Saint-John, Veronica Lazar, Maria Pia Marsala (the other red-headed Italian girl)
---