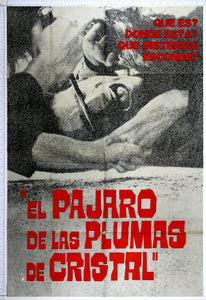 Horror Poster Emporium
Bird with the Crystal Plumage (1970) Argentinian 1 Sheet Teaser
Regular price
£45.00
£0.00
Tax included.
Dario Argento's breakthrough debut, which influenced the visual approach in Giallos thereafter. Although many of the style elements had been glimpsed before, notably in Bava's work, it was Argento who cemented the use of their fetishistic, ritualistic nature, combining the suspense and blood-letting with bravura camerawork and music that was entirely his own.
Tony Musante plays an American in Rome who witnesses an attack in an art gallery. He's trapped between two glass doors, and is unable to help the victim, but he's certain he saw something that wasn't right – he just can't put his finger on it. It's the essential premise of many of Argento's films, and propels the action as Musante obsessively investigates, putting his girlfriend in mortal danger.
Artist: Unknown - The poster has a high grain effect, which, with the specific frame used, obscures the identity of the victim, and appears to place the blade nearer the eyes. The tagline reads: What is it? Where is it from? What mysteries does it hide?
Condition: GOOD (Fold separation centre / lower cross folds, 1½ inch tear bottom edge, small paper loss bottom left
Cast: Suzy Kendall, Eva Renzi, Umberto Raho, Enrico Maria Salerno, Reggie Nalder, Mario Adorf, with Argento as the murderer's hands, and the first of his five collaborations with Ennio Morricone.
---