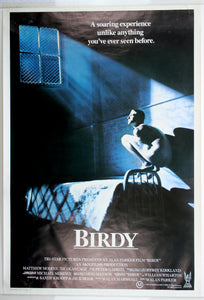 Horror Poster Emporium
Birdy (1984) Australian 1 Sheet Poster
Regular price
£15.00
£0.00
Tax included.
Something of a forgotten film, despite the acclaim it initially garnered on release. Early days for both Matthew Modine and Nicholas Cage, as friends returning from Vietnam, one physically and one mentally scarred by the experience. Writer William Wharton's book reflected his own injuries in the Battle of the Bulge, and Alan Parker's direction, when he can tear himself away from filming smoky back-lit advert-like images, is highly sensitive.
Condition: FINE (Rolled)
Cast: Karen Young, John Harkins, Sandy Baron, Bruno Kirby and Nancy Fish – the severe but loveable nurse from Exorcist III.
---