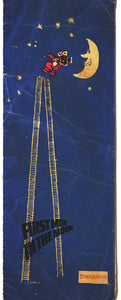 Horror Poster Emporium
First Men in the Moon (1964) Pressbook
Regular price
£25.00
£0.00
Tax included.
First Men in the Moon (1964) Pressbook / Flyer

Very rare promotional item from Karachi, Pakistan, advertising a Christmas release for the Harryhausen classic. Late in the distribution chain, it's likely this was for Christmas '64, as other items featured, Mark of the Tortoise and The Time Travellers were both 1964 releases.
It also advertises the Diana Dors classic Yield to the Night (1956), which due to its contentious subject matter, seems to have taken almost a decade to arrive. The 4-sided card brochure stands about 13 inches tall.
---