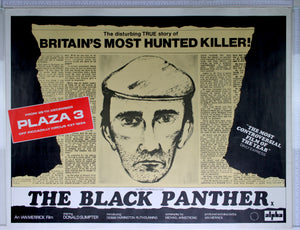 Horror Poster Emporium
Black Panther (1977) UK Quad Poster
Regular price
£150.00
£0.00
Tax included.
With the comfort of 35 years of hindsight, John Patterson was able to comment in The Guardian that The Black Panther "emerges as a meticulous, tactful, well made and highly responsible true crime movie". But the film was released less than 18 months after burglar, armed robber, murderer and kidnapper Donald Neilson was convicted. Although the public primarily remember the pitiful fate of 17-year old Lesley Whittle, the kidnap victim who strangled to death in an isolated drainage shaft, he also murdered two sub-postmasters and the husband of another – these were the kind of local post offices basically run from a home's front room.
On its original release it was certainly a case of too much, too soon. The backlash was vociferous and the film floundered. They went to the right man to write it though - Michael Armstrong, whose Mark of the Devil (1970) and Mark of the Devil II (1973) were already infamous. Director Ian Merrick made only this (and Patterson's comments are true regarding it's qualities) and the eye-poppingly bad The Sculptress (2000) aka: The Demon Within. Ian Holm was attached to the project, but only on the condition that the Whittle family would give their approval on the project, which they refused to do. The film was finally released on DVD in 2012, a year after Neilson died in prison.

Artist: Unknown – the Plaza 3 snipe is not an overlay, but printed onto the poster.
Condition: VERY FINE (Rolled)
Cast: Donald Sumpter, Debbie Farrington, Marjorie Yates - the brothel Madam in Legend of the Werewolf (1975), Ruth Dunning - Kenneth Griffith's wife in The House in Nightmare Park (1973).
---