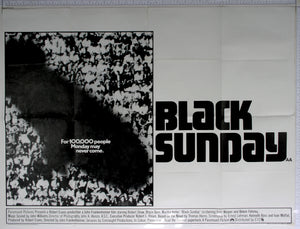 Horror Poster Emporium
Black Sunday (1977) UK Quad Poster
Regular price
£35.00
£0.00
Tax included.
Goodyear? No, the worst. John Frankenheimer's terrorist thriller from Silence of the Lambs author Thomas Harris. Marthe Keller is a Black September operative, controlling disturbed and suicidal ex-POW Bruce Dern, who, as the TV Blimp pilot, wants to kill as many of the crowd enjoying the game below as he can. Robert Shaw, a Mossad agent who inadvisably let Keller escape in a previous operation, must stop the attack.
Hurt by the fact that the previous year's Two-Minute Warning (which had a sniper at the ball game) had performed badly at the box office, Black Sunday suffered too. Also in the mid-70s, it was dramatically inconceivable that terrorists would gladly die for a cause…

Condition: VERY FINE
Cast: Robert Shaw, Fritz Weaver and Frankenheimer as the TV director. Kristy McNichol's scenes were deleted.
---