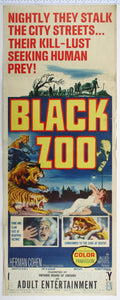 Horror Poster Emporium
Black Zoo (1963) US Insert Poster
Regular price
£55.00
£0.00
Tax included.
Producer Herman Cohen (and co-screenplay) gave Michael Gough a major 'villain' role, a part he said was his most enjoyable due to working with animals (the critter-worshipper's service is a hoot). This was their third film together, after Horrors of the Black Museum (1959) and Konga (1961). Berserk (1967) and Trog (1970 were yet to come.

Gough plays the owner of a private zoo, who controls and uses the animals to kill anyone who crosses him. It's his show, and he strides around the cages like a man possessed. Cinematographer Floyd Crosby, moonlighting from Roger Corman's Poe films, uses his widescreen compositions to great effect.
Artist: Unknown, althought the cringing woman is a reversed version of the figure in the US 1 Sheet for Horror of Dracula / Dracula (1958) so unless it's a stock photo pose, the artist could be Joseph Smith Jr.

Condition: GOOD / VERY GOOD - edge folds and dinks bottom left / centre right, Ontario Board of Censors snipe over credits

Cast: Jeanne Cooper, Rod Lauren, Virginia Grey, Elisha Cook Jr., Marianna Hill, Byron Morrow
---