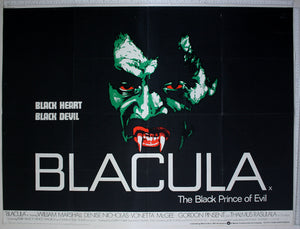 Horror Poster Emporium
Blacula (1972) UK Quad Poster #New
Regular price
£395.00
£0.00
Tax included.
One of the great blacklight posters, aptly starring William Marshall as the titular Blacula. He played an African prince cursed with vampirism during discussions with Dracula about ending the slave trade, and is awoken in modern-day Los Angeles, thereby matching Christopher Lee's London resurrection in Dracula A.D.'72.
Director William Crain's career never took off, despite the box office succes of Blacula - he went on one other blaxploitation horror classic Dr Black, Mr Hyde (1976), but mainly directed sporadic TV episodes.
Condition: VERY FINE
Cast: William Marshall, who turned up the following year in Scream Blacula Scream, Denise Nicholas, Vonetta McGee -The Great Silence (1968), Shaft in Africa (1973), Repo Man (1984), Thalmus Rasulala, and of course, the perennial fall-guy himself, Elisha Cook Jr.
---