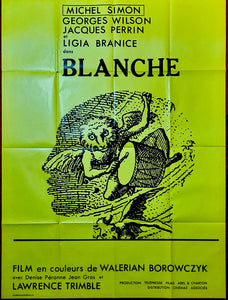 Horror Poster Emporium
Blanche (1971) French Grande Poster
Regular price
£35.00
£0.00
Tax included.
Walerian Borowczyk's ethereal medieval tale, a perfect blend of dreamy arthouse cinema and period intrigue, where the pursuit of an innocent and chaste young woman ends in death and disaster.

Condition: VERY FINE
Cast: Michel Simon - Boudu Saved from Drowning (1932), Georges Wilson, Jacques Perrin, Ligia Branice (in the title role), Denise Peronne.
---