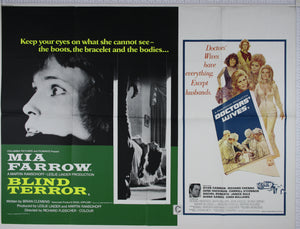 Horror Poster Emporium
Blind Terror / Doctor's Wives (Both 1971) UK Quad DB Poster
Regular price
£45.00
£0.00
Tax included.
Brian Clemens' highly creepy outing with blind damsel in distress (only she doesn't realise it at first) Mia Farrow, dodging a psycho. Reminiscent of Clemens' TV Thriller series, the protracted sequences as she unknowingly wanders around a body-strewn house are brilliantly tense. Taut direction by Richard Fleischer (son of animation pioneer Max), in the decade after The Boston Strangler when he made his most interesting and aberrant films.
Doctor's Wives, rather than a tame Peyton Place-style melodrama, incorporates adultery, murder, lesbians and a last hour brain operation with the surgeon planning to flee the country the moment it's completed. The cast is superior to the subject matter.
This double bill is the most common variant for Blind Terror, but it did briefly play as a single release.
Condition: VERY FINE

Cast: Mia Farrow, Norman Eshley, Dorothy Alison, Christopher Matthews, Paul Nicholas / Dyan Cannon, Gene Hackman, Richard Crenna, Rachel Roberts, Carroll O'Connor
---