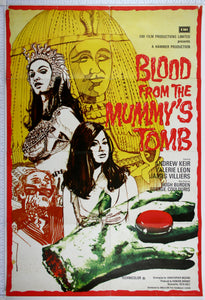 Horror Poster Emporium
Blood From the Mummy's Tomb (1971) UK International 1 Sheet Poster
Regular price
£35.00
£0.00
Tax included.
After a day's shooting, Peter Cushing had to leave to care for his wife, Helen. Andrew Keir took over. Director Seth Holt died a week or so before completing the shoot - Michael Carreras took over to finish the unhappy production. Based on Bram Stoker's The Jewel of the Seven Stars (as was The Awakening (1980) with Charlton Heston) Margaret, the daughter of Professor Fuchs is born at the exact moment he and his team open the tomb of Tara, the Egyptian Queen of Darkness, and their souls seem to be inextricably linked. Nearing her 21st birthday, Margaret (the statuesque Valerie Leon, dubbed by Olive Gregg) begins to collect the artifacts from the tomb each team member retains, leaving a trail of dead bodies, as the moment of Tara's possible resurrection draws near.

A well played Hammer film, although the creakiness is as much the 1903 source story as Christopher Wicking's script, and conspires to render this the most staid of the studio's 70s output. It also happens to be the only Hammer Mummy film not to have Michael Ripper in the cast.

Artist: Mike Vaughan
Condition: POOR / FAIR - Complete fold separation to centre top right (between 'blood' and 'from the'), tape residue left and right lower quarters, paper loss top corners. In need of backing.

Cast: Andrew Keir, Valerie Leon, James Villiers, High Burden, George Coulouris, Rosalie Crutchley, Aubrey Morris
---