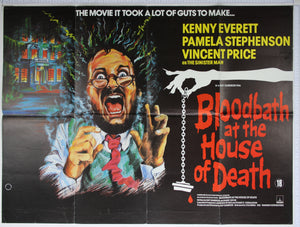 Horror Poster Emporium
Bloodbath at the House of Death (1984) UK Quad Poster
Regular price
£65.00
£0.00
Tax included.
Writer and Director Ray Cameron's career was inextricably bound up with Kenny Everett's, writing the lion's share of both his long-running TV shows. What better team to try a House in Nightmare Park-style mash up? And securing Vincent Price as 'The Sinister Man' was a coup, as was calling some favours from old comedy legends.
Strangely, with horror spoofs now as common as the real thing, Bloodbath has worn better than expected, and has a vociferous fan club. At the time of release, the meld of fairly graphic horror effects and comedy was more jarring, as well as the comedy being rather hit and miss. Although it's easy to see the demarcation between Cameron's (laboured) and Barry Cryer's (classic punning crudity) gags. Here's a typical one from Barry, in an exchange between buxom Everett regular Cleo Rocos, and John Stephen Hill:
Cleo: Pass me a knife, would you?
John: I suppose a fork is out of the question?
Cleo: Not necessarily. But let's have dinner first.
Artist: Unknown

Condition: VERY GOOD

Cast: Kenny Everett, Pamela Stephenson, Vincent Price, Gareth Hunt, Don Warrington, Cleo Rocos, Sheila Steafel, John Fortune, Graham Stark, David Lodge
---