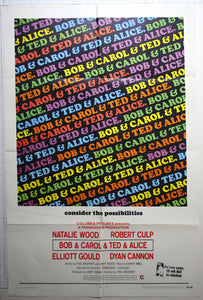 Horror Poster Emporium
Bob and Carol and Ted and Alice (1969) US 1 Sheet Poster
Regular price
$20.00
$0.00
Tax included.
Paul Mazursky's comedy drama that divided the critics, with comments ranging from 'deplorable' to 'scintillating social comedy'. Natalie Wood gambled her fee and took a percentage of the gross instead - she made nearly $5 million over the next three years. It was Mazursky's feature debut, co-written with Larry Tucker, and gleefully opened up the contradictions of the pampered California lifestyle, and the confusions of sexual freedom and open marriage.
It was nominated for four Oscars (Elliott Gould's only one) and became the sixth highest-grossing film of the year. Despite the specific nature of it's setting, as a comedy of manners it's dated far better than many other late 60s genre offerings, and Robert Culp gives a career best performance.
Condition: FINE

Cast: Natalie Wood, Robert Culp, Elliott Gould, Dyan Cannon, Horst Ebersberg, Celeste Yarnall, Lynn Borden – Frogs (1972), Black Mama White Mama and Walking Tall (both 1973).
---