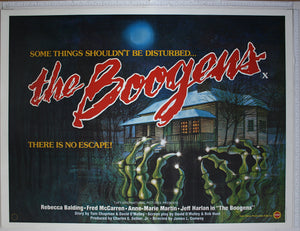 Horror Poster Emporium
Boogens (1981) UK Quad Poster
Regular price
£75.00
£0.00
Tax included.
A kind of dry run for Tremors nine years later, The Boogens are Lovecraftian monsters, underground turtles with tentacles and sharp teeth, reawakened when an abandoned silver mine is reopened. The practical effects are best suggested (and heard) than seen, but the slow build and a real attempt at characterisation pay off, and there are some great horror chase sequences.
For the budget it's a handsome film with impressive settings; the graveyard cavern, flooded mine shafts and ice-bound terrain. Cleanly shot by Paul Hipp – Blood and Lace (1971), Hanger 18 (1980) he worked with Boogens director James L. Conway numerous times, generally on Sunn Classic Pictures, like the Grizzly Addams series, and their dubious bible and conspiracy theory documentaries. Without a hint of mockery, a big part of the drama is shouldered by the dog, so kudos to Tiger and his trainer Karin Dew.
Artist: Winboy
Condition: VERY FINE - (Rolled) some creasing to borders, artwork area clear

Cast: Rebecca Balding - The Silent Scream (1979), Fred McCarren, Anne-Marie Martin – The Shape of Things to Come (1979), Prom Night (1980) – both credited as 'Eddie Benton', uncredited in Halloween II (1981) to the Sledge Hammer! TV series (1986-1988), Jeff Harlan, John Crawford – The Phantom of 42nd Street (1945), The Invisible Monster (1950), Zombies of the Stratosphere (1952), uncredited in Jason and the Argonauts (1963), I Saw What You Did (1965), Grave Secrets (1989).
---