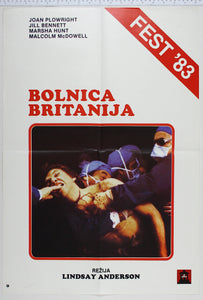 Horror Poster Emporium
Britannia Hospital (1982) Yugoslavian Small Poster
Regular price
£35.00
£0.00
Tax included.
Lindsay Anderson's deeply black comedy, a loose conclusion to the If… (1968) and O Lucky Man! (1973) sequence. This time Mick Travis (played by Malcolm McDowell) is a TV reporter, covering the visit of Queen Elizabeth I (yes!) to inaugurate a new wing in Britannia Hospital, where Professor Millar conducts sinister experiments.
Everything in Broken Britain is present to frustrate the visit – strikes, indifference, demonstrations. A top cast and flashes of brilliance illuminate Anderson's allegory, which is often as visually and intellectually rousing as the works of Fellini or Godard. And the Frankenstein conclusion (anyone who has seen O Lucky Man! will be unable to forget the Professor's pig-man) is a grotesque book-end to the story. After attending a preview, Derek Jarman predicted it 'would finish Lindsay in the British film industry.' It did.

Artist: Unknown - to my knowledge, the only poster to hint at the horrible climax, all other campaigns went for a Mad magazine-style cartoon look.

Condition: FINE

(and what a) Cast: Leonard Rossiter, Malcolm McDowell, Fulton Mackay, Vivian Pickles, Graham Crowden, Jill Bennett, Peter Jeffrey, Marsha Hunt, Joan Plowright, Robin Asquith, Mark Hamill, Robbie Coltrane, Dandy Nicholls, Brian Glover, Tony Haygarth, Richard Griffiths, Valentine Dyall, Liz Smith, Arthur Lowe, Alan Bates
---