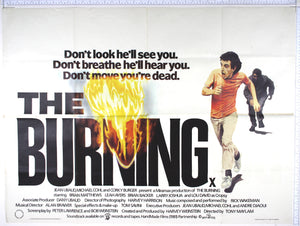 Horror Poster Emporium
Burning (1981) UK Quad Poster
Regular price
£115.00
£0.00
Tax included.
A film of many debuts. Jason Alexander, Fisher Stevens and Holly Hunter – 'I was a kind of glorified extra. I got my Screen Actors Guild card, so it was fantastic'. It was director Tony Maylam's first feature, and was the success that launched the careers of producers Harvey and Bob Weinstein. The film was edited by Jack Sholder, who went on to direct two brilliant entries, Alone in the Dark (1982) and The Hidden (1987).
Treading the same ground as Friday the 13th (1980) but written before that film, The Burning combines bravura set pieces like the raft attack, (the disfigured madman uses garden shears as his weapon of choice - effects courtesy of Tom Savini) with effectively tense build-ups before the kills. There's a neat circularity to the plotting that is unusual in the slasher genre, and the one thematic misstep is in having a final boy, not a girl, survive.
Aka: Carnage, Cropsy (reissue)
Artist: Unknown
Condition: VERY FINE - Small fold dink bottom left, small spots above the 'T'.

Cast: Brian Matthews, Leah Ayres, Larry Joshua, Carrick Glenn, Brian Backer, Shelley Bruce
---