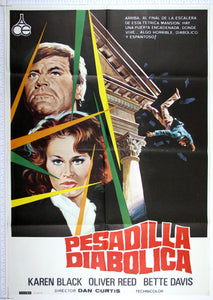 Horror Poster Emporium
Burnt Offerings (1976) Spanish 1 Sheet Poster
Regular price
£25.00
£0.00
Tax included.
Filmed at the Dunsmuir House in Oakland, California [it also appeared as the funeral home in Phantasm (1979)], director Dan Curtis reteamed with Karen Black after their highly successful TV thriller Trilogy of Terror (1975). An unwitting family, Ben, Marian and Davey Rolf, move in to a rather shabby 19th century mansion for the summer, on the condition the eccentric owners' mother is allowed to stay in an upper room.
Every time some accident befalls the family, the house is rejuvenated in turn. And after Ben's mother dies, Marion, now possessed by the house, discovers all the blooms in the ruined conservatory have revived. Add to the mix dreams of a ghostly chauffeur, a great score by Robert Cobert (he composed for Dark Shadows (1966 - 1971) The Night Stalker (1972) and several other Dan Curtis productions) and a delicately crafted script by Curtis and Logan's Run author William F. Nolan.
Aka: Trauma / Killhouse
Artist: Unknown - (the tagline reads: Up at the end of the stairs, in this sinister mansion, there is a chained door, where something horrible, diabolical and terrifying lives).

Condition: VERY FINE

Cast: Oliver Reed, Bette Davis, Burgess Meredith, Eileen Heckart, Lee Montgomery, Anthony James (chauffeur from hell, and often remembered as the singing hitman in The Naked Gun 2 1/2 (1991) or the owner who unwisely decorated his saloon with Ned Logan's body in Unforgiven - 1992).

---