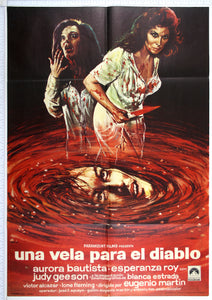 Horror Poster Emporium
Candle for the Devil (1973) Spanish 1 Sheet Poster
Regular price
£75.00
£0.00
Tax included.
Sisters Verónica and Marta run an inn in a small Spanish village - an argument about nude sunbathing (which offends their strict religious principles) ends in a guest's accidental death. The floodgates now open when it comes to judging those who are sinful, and it transpires Marta's fiancé disappeared on their wedding day, years before. Murder upon murder follow, and with a restaurant to run, and bodies to dispose of...
Eugenio Martín started in the historical / adventure genres, scripting and directing an early krimi / giallo Dummy of Death (1962) and a prescient Spaghetti Western, The Bounty Killer (1966) independent of Leone's triumvirate. He's best remembered for Horror Express (1972), pairing Christopher Lee and Peter Cushing with Telly Savalas, but this smaller scale film, with Aurora Bautista and Esperenza Roy as the sisters and Sally Geeson as their final victim is easily as good.
Aka: It Happened at Nightmare Inn, Una vela para el diablo
Artist: Mac (Macario Gomez Quibus) Striking design with the head in the red wine vat, a truly horrific image for Spanish audiences.
Condition: VERY FINE

Cast: Victor Barrera, Lone Fleming, Blanca Estrada, Loreta Tovar, Fernando Villena – Editing by Pable G. del Amo and haunting score by Antonio Pérez Olea - The Blood Spattered Bride (1972), Love letters of a Nun (1978)
Search Candle for other items
---