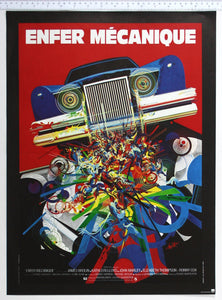 Horror Poster Emporium
Car (1977) French Petite Poster
Regular price
£65.00
£0.00
Tax included.
From the man who customised everything from Adam West's Batmobile to Knight Rider's KITT, George Barris created The Car, built on a Lincoln Mark III chassis. Director Elliot Silverstein wanted it to be as sinister as possible, so Barris made the roof three inches lower than usual and the side fenders higher and longer. The bodywork was painted in steel, pearl and charcoal, with windows smoked on the inside and amber on the outside, making it impossible to see inside. It truly does seem demonic.
 With spirited performances from the cast and by offering no easy answers, the film transcends the typical tropes of the horror genre. As New York Press writer Jim Knipfel wrote, If Ingmar Bergman had made a horror movie about a murderous automobile, he would have made The Car.
Aka: DeathMobile, Enfer mécanique

Artist: Raymond Moretti, a French abstract painter who combined Hebrew letters, lines, and colors to create dynamic designs that flit in and out of abstraction. Usually poster artwork changed from the Petite to the Grande, but this explosive design was used for both scales and worked perfectly.
Condition: VERY FINE / NEAR MINT

Cast: James Brolin, Kathleen Lloyd, John Marley, R.G. Armstrong, Kim Richards - the little girl in Assault on Precinct 13 (1976), Kyle Richards - Death Trap (1976), Halloween (1978), The Watcher in the Woods (1980)
---