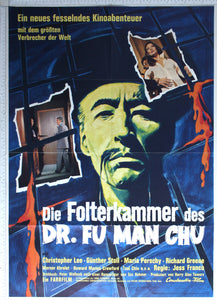 Horror Poster Emporium
Castle of Fu Manchu (1969) German A1 Poster
Regular price
£45.00
£0.00
Tax included.
The final entry in the five-film Fu Manchu series from producer Harry Alan Towers, directed by a very zoom happy Jesús Franco, with a plethora of stock footage from other sources, particularly Roy Ward Baker's Titanic drama, A Night to Remember (1958). From his base in Turkey, Fu Manchu plans to freeze the world's oceans with a diabolical new device. Nayland Smith and his sidekick Dr. Petrie (rather than hailing from Scotland Yard, they're now seconded to Interpol) hurry to Istanbul to stop him.
Christopher Lee is in fine form, delivering his lines with relish. Tsai Chin as Fu's sadistic daughter always convinces, and Rosalba Neri - Lady Frankenstein (1971) turns up as Lisa, a street-tough lesbian, prompting Fu to say 'Keep her alive. She might be useful to us. She fights like a man.'
Aka: The Torture Chamber of Dr. Fu Manchu, Sax Rohmer's The Castle of Fu Manchu

Condition: FINE - creasing in surface blacks

Cast: Christopher Lee, Richard Greene, Howard Marion-Crawford (in what was almost his last film), Tsai Chin, Maria Perschy – Hunchback of the Morgue (1973), Ghostships of the Blind Dead, Blue Eyes of the Broken Doll (both 1974), José Manuel Martin, Burt Kwouk, a cameo by Jesús Franco, and since they're visible from the stock footage cribbed from Campbell's Kingdom (1957), Stanley Baker and Dirk Bogarde.
---