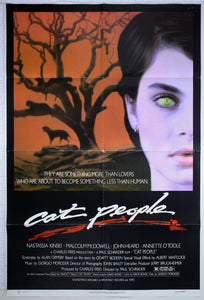 Horror Poster Emporium
Cat People (1982) US 1 Sheet Poster #New
Regular price
£40.00
£0.00
Tax included.
The original Cat People (1942) was the film that saved RKO after the financial debacle of Citizen Kane the previous year. Based on Dewitt Bodeen's original screenplay for RKO's 'B' Film Unit headed by Val Lewton, Paul Schrader took the reins as director and co-writer with Alan Ormsby - Children Shouldn't Play with Dead Things (1972). Some earlier drafts were written by director Bob Clark. With the erotic elements elevated by Schrader (Lynn Lowry said he ensured every actress bar Ruby Dee was naked at some point), it was Ormsby who added Kinski's werecat brother Paul (Malcolm McDowell), so that it wasn't just the female character's sexual voraciousness that marked her for death.
Condition: VERY GOOD / FINE - Reverse folded
Cast: Nastassja Kinski, John Heard, Malcom McDowell, Annette O'Toole, Lynn Lowry, Ed Begley Jr, John Larroquette.
---