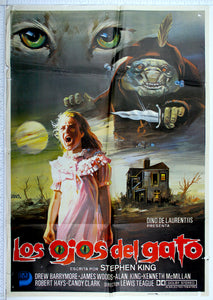 Horror Poster Emporium
Cat's Eye (1985) Spanish 1 Sheet #New
Regular price
£25.00
£0.00
Tax included.
A stray cat links three of Stephen King's short stories - James Woods stars in Quitters. Inc. where a stop smoking program run by the mob becomes progressively more sinister with every infraction. The Ledge has Airplane's Robert Hayes trapped on the exterior ledge of the penthouse belonging to the gambling mad crime boss whose wife Hayes is seeing. The bet is that the couple can go free if Hayes can make his way around the entire building unscathed. The final story General (the new name for the cat) has a murderous troll trying to steal a little girl's breath.

Although a Dino De Laurentiis production, co-producer was Amicus's Milton Subotsky, king of the portmanteau film, and this was his last such effort. With snappy direction by Lewis Teague - Alligator (1980), Cujo (1983) - cinematography by Jack Cardiff and a host of King references and in-jokes, on release it was widely considered to be the best King adaptation after Carrie (1976).
Artist: Jano
Condition: FAIR - various edge dinks and paper loss, small interior paper loss top right, incorrectly hand-folded.

Cast: James Woods, Alan King, Robert Hayes, Candy Clark, Kenneth McMillan, Drew Barrymore, with special appearances from Herbert Lom and Christopher Walken in a Dead Zone clip.

---