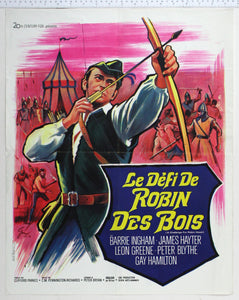 Horror Poster Emporium
Challenge for Robin Hood (1967) French Petite Poster
Regular price
£45.00
£0.00
Tax included.
A rousing version of the tale from Hammer / Severn Arts, which, despite budget restrictions, compares favourably with other versions. Barry Ingham is a charismatic Robin Hood, as adept at swordplay as with a bow, and Peter Blythe portrays the perfect snivelling coward as Roger de Courtney.
Just as Anthony Perkins was saddled with Norman Bates his entire career, so James Hayter was indubitably Mr Pickwick from The Pickwick Papers (1952). But that same year, he'd also played his second signature role as Friar Tuck in The Story of Robin Hood and his Merrie Men for a Walt Disney production, (although curiously, in the 1956/57 TV series, he was Tom the Miller). But some fifteen years later, as far as Hammer were concerned, he was still the best man for the role. He subsequently appeared for them in The Horror of Frankenstein (1970), as well as Blood on Satan's Claw (1971) and Burke and Hare (1972).
Artist: GN
Condition: GOOD / VERY GOOD - light edge dinks and creases

Cast: Alfie Bass, John Arnatt, Leon Greene, Gay Hamilton and directed by C. M. Pennington-Richards who had made many TV period TV shows, but seemed to practically retire after this film.
---