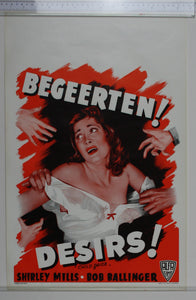 Horror Poster Emporium
Child Bride (1938 R70/80) Belgian Poster
Regular price
£35.00
£0.00
Tax included.
Although Child Bride is from 1938, Alfa Films were only active through the 70s to the mid 80s, so this release is from that period. Interesting that this classic exploitation film got a Russian release at some time, eager to prove exactly how decadent the West was. Officially the story concerns a schoolteacher campaigning to prevent old men marrying young girls, in a backwoods (and backward) rural community. But ultimately, it's feuds and age-old enmities that put a stop to little Jennie's marriage night. Shirley Mills plays the little girl in her debut role, and her skinny dip scene is removed from the 'soft' version, presumably depending on whether the film was showing anywhere near the Blble belt.
The Deus ex Machina to prevent child rape comes in the diminutive form of Angelo Rossitto (here credited as Don Barrett), who'd already appeared in Tod Browning's Freaks (1932) and kept working through the decades, Hellzapoppin' (1941), Invasion of the Hell Creatures (1957), The Trip (1967), Dracula vs. Frankenstein (1971), Galaxina (1980) and incredibly right up to Mad Max Beyond Thunderdome (1985).
Artist: Unknown

Condition: VERY FINE / NEAR MINT

Cast: Bob Bollinger, Warner Richmond, Diana Durrell (her only film), - written and directed by Harry Revier, producer of serials and early exploitation films, as well as some low-budget 'quota quickies' in England during the 1930s, many of which now appear to be lost.
---