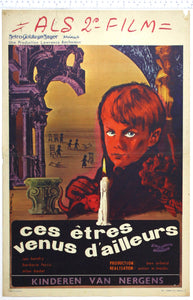 Horror Poster Emporium
Children of the Damned (1964) Belgian Poster
Regular price
$72.00
$0.00
Tax included.
Nothing in Anton M. Leader's TV credits would suggest why the only time he ventured into the cinema, it would be for a genre film. Two episodes of Twilight Zone? However, the sequence in which representatives of the various factions are forced to reveal their true motives, and simultaneously kill one another is brilliant, aided by the razor sharp editing of Ernest Walter – The Haunting (1963), Eye of the Devil (1966), 10 Rillington Place (1971).
Not in any way a sequel to Village of the Damned (1960) other than the advertised connection with John Wyndham, six psychically-powered children from all over the world take refuge in an English church after the military try to experiment on them. Besieged, they warn the world to back off… Whether the next level of human intelligence, or an aberration to be used and eradicated, the trailer had no doubts.
Artist: Robert Detheux (his earliest identified film poster)
Condition: FINE / VERY FINE - Handwritten playdate top border, paper loss top right and dirt

Cast: Ian Hendry, Alan Badel, Barbara Ferris, Alfred Burke, Patrick Wymark, the incomparable Bessie Love and Leo McKern as a walk on.
---