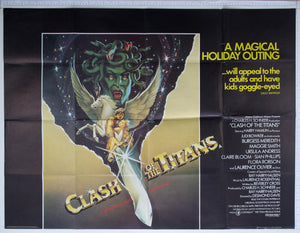 Horror Poster Emporium
Clash of the Titans (1981) UK Quad Poster
Regular price
£85.00
£0.00
Tax included.
The last gasp of Harryhausen's considerable powers, best glimpsed in the Gorgon scene rather than the dreadful comedy mechanical owl. At a preview of The Empire Strikes Back (1980), during the opening Tauntaun sequence, he was heard to moan 'Oh my God' as the future of modelled animation was revealed, using computer aided camera techniques he recognised were beyond him.
A suitably stellar cast for the gods was assembled; Laurence Olivier, Clair Bloom, Maggie Smith etc. and Judi Bowker (from the excellent 1977 BBC Louis Jordan Dracula) who had the loveliest, and longest neck in movies.
Artist: Roger Huyssen - almost every territory pulled out all the stops to create great artwork for this film.

Condition: VERY FINE - small tears to bottom right edge, slight creasing in centre right crossfold.

---