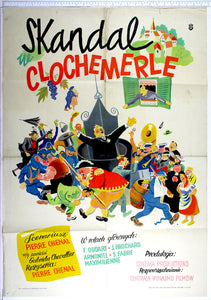 Horror Poster Emporium
Clochemerle (1948) Polish Poster #New
Regular price
£225.00
£0.00
Tax included.
The closest thing to a Gallic Ealing comedy, Clochemerle tells of the uproar within a small village in Beaujolais, when a public urinal is installed in the village square. The more upstanding and pious citizens line up against the coarser inhabitants, in a smart satire of the real-life battle lines drawn between Catholics and Republicans.  Things are only made worse when the local guard is called in to establish order, and en masse, proceed to seduce the daughters of the townspeople.
It has similar elements to Giovannino Guareschi's Little World of Don Camillo (1948), and director Pierre Chenal, who had just made the lyrical Devil and the Angel (1946) with Erich von Stroheim, brings the sexual absurdities to a suitably farcical conclusion.
Artist: Karol Ferster - the famed caricaturist who signed his work Charlie, creates an exquisite cartoon montage of all the lead characters.
Aka: Scandals of Clochemerle, Die liebestolle Stadt
Condition: Multiple small tears top edge and centre fold, separation bottom crossfold, light damage to lower horizontal fold.
Cast: Félix Oudart, Saturnin Fabre, Jane Marken, Maximilienne, Jean Brochard - Le Corbeau (1943)
---